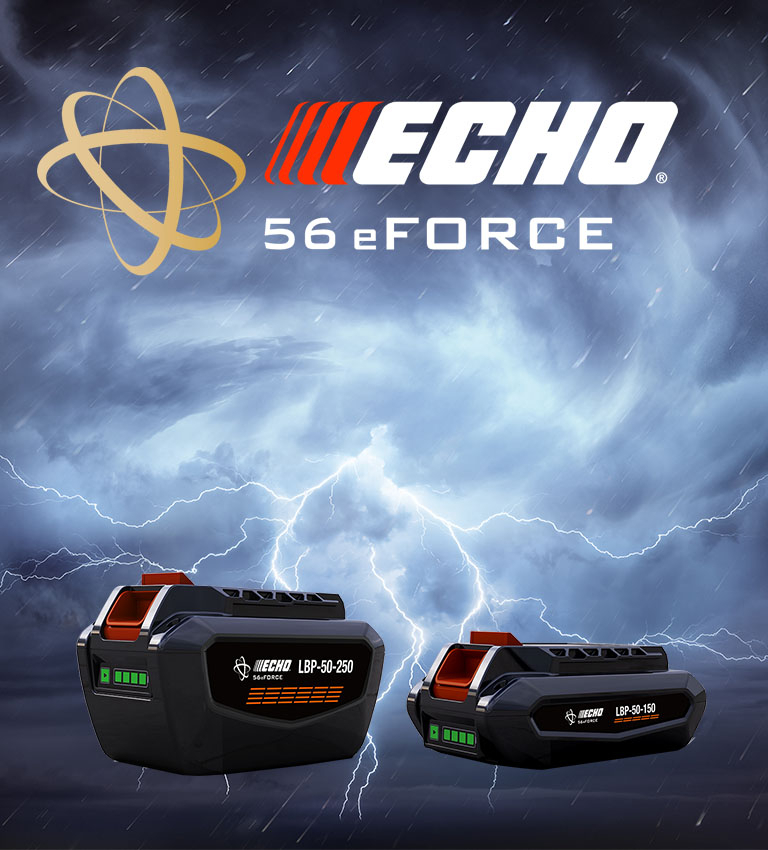 1 Şubat 2022
New ECHO 56 eFORCE batteries
From 50V to 56 eFORCE
50V 2Ah, 4Ah and 16Ah batteries will be discontinued and replaced with the new, ECHO 56 eFORCE 2.5Ah and 5Ah batteries. With the introduction of the new, improved 56V battery we created a global name that clearly defines our premium, professional battery platform. 56 eFORCE means more energy, quality and professional grade performance. 56 eFORCE batteries share the same compatibility with Professional Series tools as the previous batteries.
ALL NEW 56V EFFICIENT AND RELIABLE POWER SOURCE
The new 56 eFORCE battery utilises the very latest in lithium-ion technology to bring you more energy, more versatility and longer run times. This means you receive the power you need no matter how heavy the workload. Both the 2.5Ah and 5Ah batteries are compatible across the entire range of tools (DCS-2500T is only compatible with the 2.5Ah battery). The 2.5Ah battery is lightweight and ergonomic whilst the 5Ah battery gives you extended run times. Advanced lithium-ion technology means you get full power until the battery is completely depleted. Two new chargers are also available, providing efficient and fast charge times.
THE RANGE OF TOOLS
You already know that battery tools offer low noise, zero emissions and less maintenance, but what if they could also rival the power of your professional petrol tools? Meet the Professional Battery Series, ECHO's premium battery line-up, built for professionals and powered by the new, ECHO 56 eFORCE lithium-ion battery.
DCS-2500T top handle chain saw
DCS-3500 rear handle chain saw
DSRM-2600 trimmer / brushcutter
DPAS-2600 multi tool power head
DPB-600 blower
DHC-200 hedge trimmer